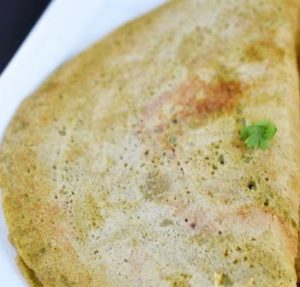 At Heritage Acupuncture, we're always on the lookout for tasty gluten-free staples to spice up your daily meal rotation. These mung bean crepes will prove a delicious and flexible addition to your menus. Use them to wrap some scrambled eggs, roll up a lunch wrap or to sop up a curry for dinner.
In Chinese medicine terms, mung beans are detoxifying to the body. They help clear such skin conditions as acne and rashes. Mung beans also contain compounds that help boost collagen in skin. So along with the fiber and nutritional benefits, this is one healthy crepe. Enjoy!
This recipe is brought to you by Amanda Cushman, chef extraordinaire (www.chapelhillcookingclasses.com). 
 
MUNG BEAN CREPES
Makes 10 crepes
Ingredients 1 cup whole mung beans
1/2 inch piece fresh ginger, peeled and cut into chunks
2 garlic cloves, peeled, halved
1/2 cup chopped cilantro
1/4 tsp. turmeric
1/2 cup rice or chick pea flour
1/2 to 1 cup warm water
salt to taste
1/3 cup vegetable oil or as needed
cilantro chutney- for serving
8 scallions, sliced very thinly
Soak mung beans in warm water to cover by at least an inch for at least 8 hours in a dark place. Drain and transfer to a food processor with the remaining batter ingredients starting with the 1/2 cup water and puree. The batter should be slightly thicker than a typical crepe batter consistency. Transfer batter to a bowl.
Heat a large skillet over high heat and brush lightly with oil. Stir batter and ladle out about 1/3 cup on the griddle. Quickly spread the batter into a thin crepe, by tilting the pan. Pour a little oil around the crepe and cook over medium-high heat for 2 minutes on each side, until nicely brown. Serve with cilantro chutney and scallions sprinkled on top.