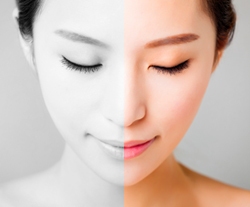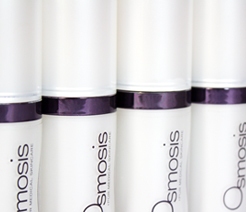 We're excited to announce that Heritage Acupuncture is now carrying Osmosis, a medical/holistic skincare line.
One of the most scientifically advanced skincare lines available, Osmosis specializes in patented serums that address the source of aging to boost collagen production, repair DNA and encourage skin growth factors.
Other Osmosis products help soothe rosacea, correct melasma and relieve acne. Osmosis products also are free of toxic chemicals, parabens, gluten, phthalates, fragrances and artificial colors. 
With Osmosis, there's no such thing as a one-size-fits-all facial treatment. Product application can be customized whether your skin concern is enhancing firmness, reducing inflammation or healing sun damage. The line also includes key processes to remodel scar tissue and repair broken capillaries.
Several product innovations make Osmosis products a powerful ally for anti-aging and treating specific skin conditions. 
The use of growth factors, which the body produces to control the division and maturation of cells, encourages the repair of damaged cells and development of new cells. Osmosis not only incorporates growth factors into its specialized serums, but also coats these factors in exosomes, protective envelopes surrounding each growth factor for better penetration and more intense activity on the skin.
Osmosis products also are coated with liposomes, or tiny enclosures similar to cell membranes, which increase product penetration by 600 percent. This ability to address aging at its source allows key ingredients in Osmosis' DNA repair serums reduce to skin damage at the cellular level while turning on the repair process. 
Now that skin care has become more scientific and sophisticated, you can achieve results without harsh treatments or chemicals. We're happy to offer new services with Osmosis products that combine the best of both worlds — scientific results with a holistic approach.