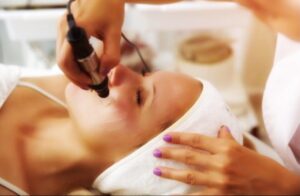 We are happy to announce our new offering at Heritage Acupuncture — microneedling or collagen induction therapy.  With microneedling, you can expect a reduction of wrinkles, hyperpigmentation, sun damage, scars and large pores. You'll notice an increase in skin firmness, tightness and overall health and circulation. The best part is, microneedling safely enhances collagen without surgery, synthetic injections or neurotoxins. 
We offer a comfortable and premium service that includes numbing cream, soothing mask, customized serums, LED light therapy on the face and a luxury biomat of heated gemstones and infrared rays. 
Just after microneedling, your skin's absorptive abilities increase by 3,000 percent. We seize this opportunity by applying our customized serums based on Chinese medicine principals. Our serums can be tailored to target hyperpigmentation, collagen production, hydration, sun damage, dark circles and other skin concerns.
Read more about our microneedling treatments here: