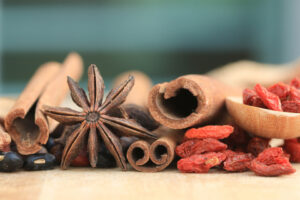 If your acupuncturist has ever prescribed a Chinese herbal formula, you probably wondered about the unfamiliar ingredient names, not to mention the interesting smell and taste.  
Although patients often don't know the ingredients of their pharmaceutical prescriptions, it's natural to be curious about foreign words and flavors. If you're new to herbal medicine, your only exposure to it may have come from articles in the mainstream media that don't distinguish between culinary traditions and folkloric treatments in China and the very regulated products used by licensed practitioners.
You'll be relieved to know that prescribed herbs from a licensed and trained acupuncturist are far from the free-for-all depicted in news stories. In fact, they're subject not only to FDA approval, but also strict laws regarding sanitation and quality control.
Nowadays most Chinese herbal formulas are dispensed in pill or granule (powder) form.  At Heritage Acupuncture we use granular herbal powders because it's easier to customize individual formulas by adding or subtracting ingredients.
So what are Chinese herbs? The Chinese materia medica, or catalog of individual herbs, is comprised of entirely natural substances, many of which already occupy space in your fridge or kitchen cabinet (examples include ginger, cinnamon, pepper, chives and cloves). Some are roots, barks or resins such as frankincense or myrrh. This natural herbal pharmacy also contains plant roots, seeds  and even flowers. 
In order to prescribe an herbal formula, your acupuncturist has received at least four years of formal training and taken a national exam with material on both acupuncture and herbalism. Acupuncturists also must hold a valid license and receive ongoing continuing education. 
It's important to understand that some substances which licensed, trained Chinese herbalists prescribe professionally have been misused by commercial enterprises unrelated to Chinese medicine. For example, ma huang or ephedra has been erroneously used in the supplement industry as a stimulant, typically for sports performance. This is a misuse of ma huang and not condoned or practiced by trained acupuncturists.
Nor do modern Chinese herbalists use substances from endangered species, such as shark cartilage or tiger bones. While these substances may be bought and sold in China, usually for culinary or folk remedy purposes, herbalists trained in the U.S. do not use them, nor are they available from practitioner herbal suppliers.
 Your licensed practitioner also is not permitted to use herbal ingredients containing pharmaceuticals or toxic ingredients. In fact, the herbal suppliers for licensed practitioners must comply with FDA approval and other strict quality control. At Heritage, we purchase most herbal ingredients from Legendary Herbs, a Colorado-based distributor importing herbs from Tianjiang Pharmaceutical. This is  a $100 million factory that supplies over 10,000 Chinese medical clinics and distributes to over 20 countries.
Every herbal batch is tested for heavy metals, microbial contaminants, yeasts and molds. The factory uses gas chromatography-mass spectrometry to test for pesticides, enhanced with third-party testing in the U.S.
Tianjiang Pharmaceutical was the first granule factory in Chinese to receive GMP (good manufacturing practice) certification, a standard established by the FDA to ensure safety and quality control in supplements and pharmaceuticals.
Click here to read more about Legendary's quality control policies:
https://legendaryherbs.com/quality-control-at-legendary-herbs-a-visual-guide-to-our-granules/?v=7516fd43adaa
Our intent is to reassure patients and prospective patients that Chinese herbs, when prescribed by a trained and licensed provider, are safe and produced according to U.S. pharmaceutical standards.  As gentle as these raw materials are, they're able to create profound healing in your body when properly prescribed.  They're effective not only in chronic conditions like migraines but also in infectious conditions. You deserve accurate information about this important health modality from an informed and experienced source.
Stay tuned for Chinese Herbs, Part II — how Chinese herbal formulas can support and transform your body.